North American Championships For 14 Inboard Classes
& APBA Eastern Divisionals
1 Litre
1 Litre ("Y" class) hydroplanes are small, light and lightning quick, racing to speeds over 105 mph. While supercharging is not allowed, other modifications are encouraged. Engines are automotive or marine based, 2 or 4-cycle style.  Maximum limit of 2-cycle is 1160 cc and maximum limit of 4-cycle is 1315 cc.  The most common engines are from 2-cycle personal water crafts boats!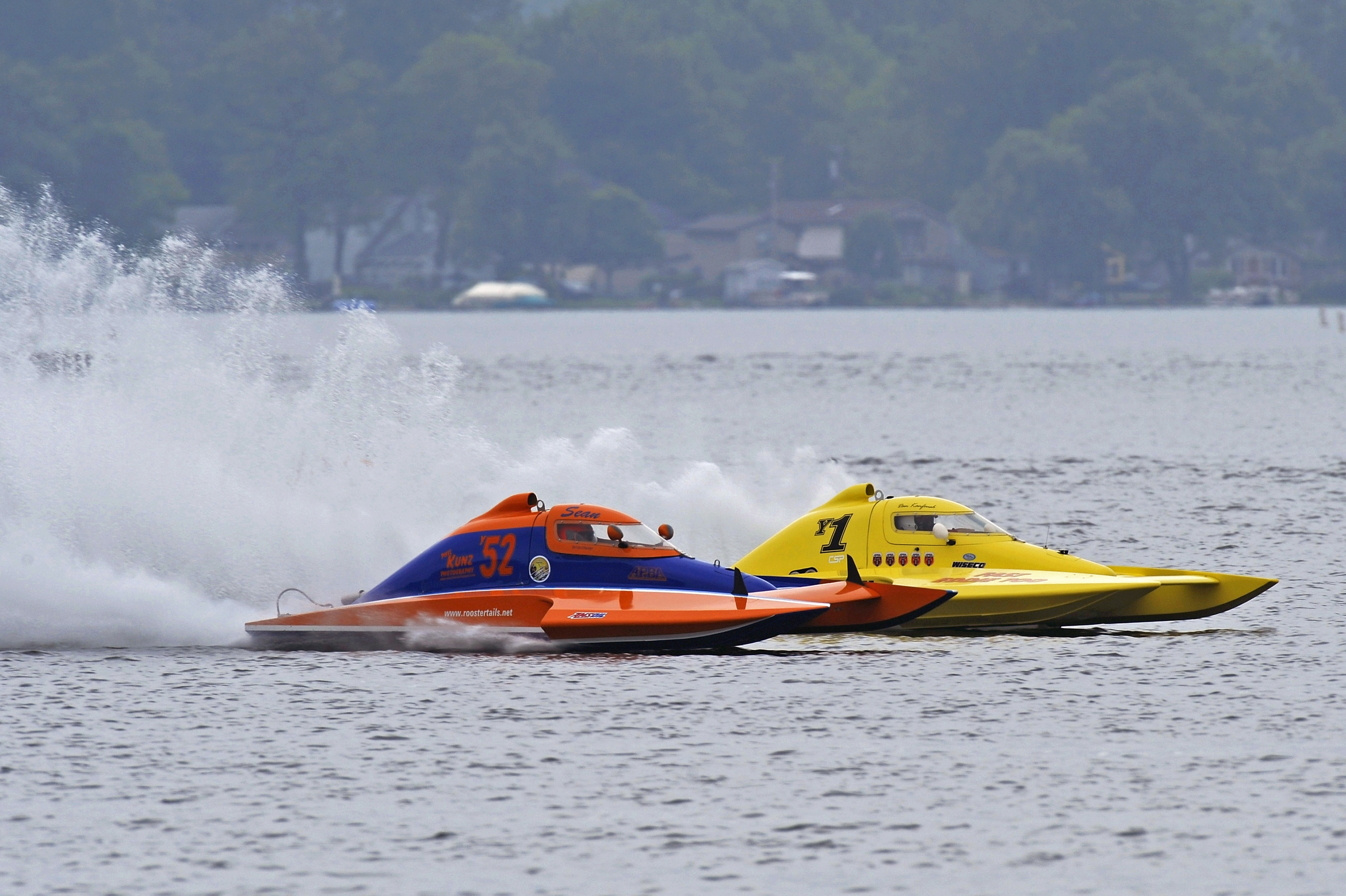 1.5 Litre Stock
1.5 Litre Stock ("T" class) hydroplanes race at 90+ mph. These small, light and racy hydros are a great starting point for young drivers or for budget teams. They generate all the competitive excitement of the bigger classes, but their smaller size, virtually stock components, and dependable 4 cylinder Toyota engine add a degree of economy to following the boat racing trail.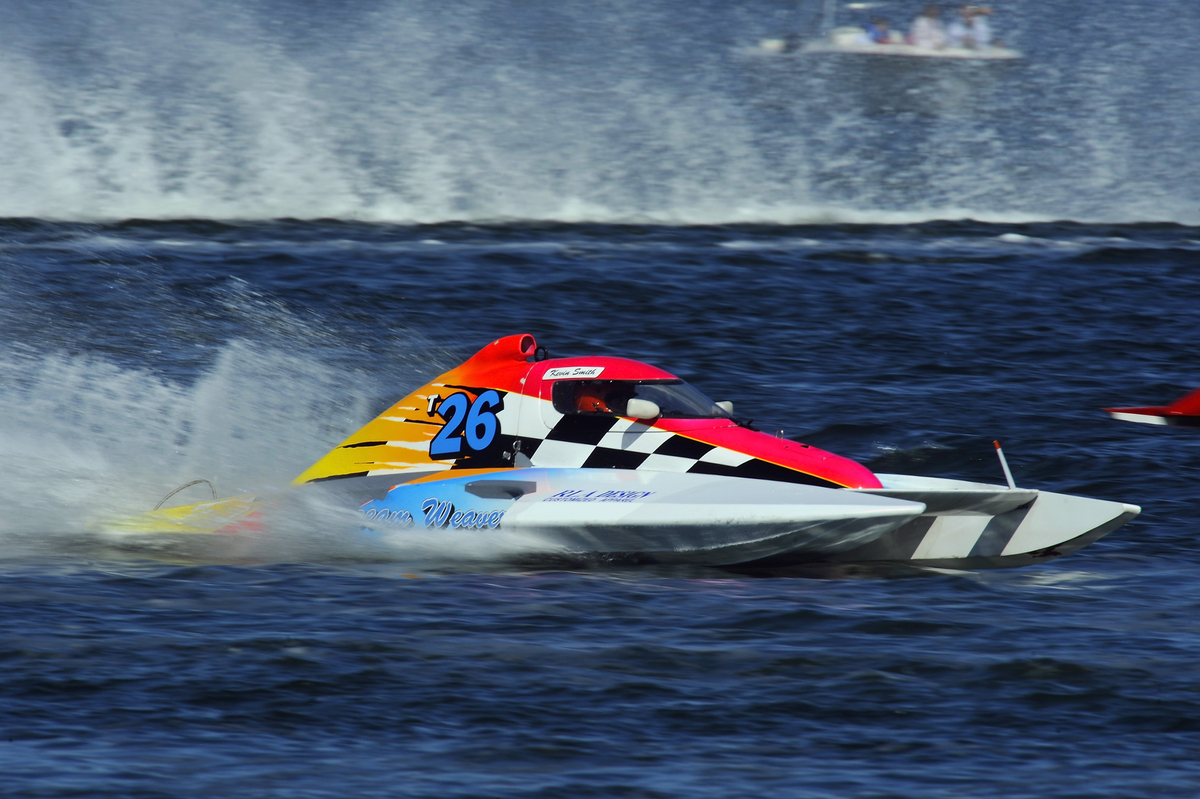 2.5 Litre Modified
The 2.5 Litre Modified (""A" class) hydroplane races at speeds over 130 mph – creatively. Few engine restrictions apply beyond prohibiting superchargers and setting a displacement limit of 166 cubic inches; engine modifications are limited only by the racer's imagination.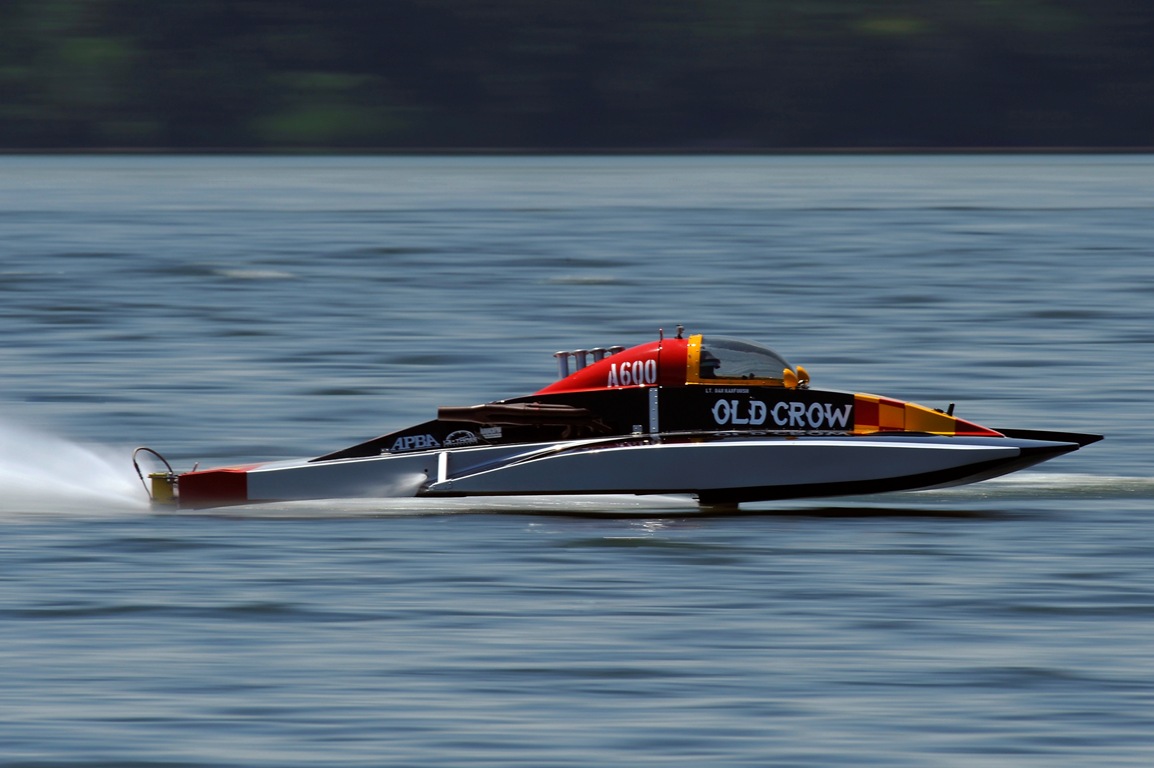 2.5 Litre Stock
2.5 Litre Stock hydroplanes ("S" class) race to 100-plus mph, using 145 horsepower marine-based 2000 and 2300 Ford engines. S-boats offer very exciting side-by-side racing at a reasonable cost. Driving skill is paramount here, and driver development is inevitable, making this class an excellent stepping stone to bigger, higher-powered classes.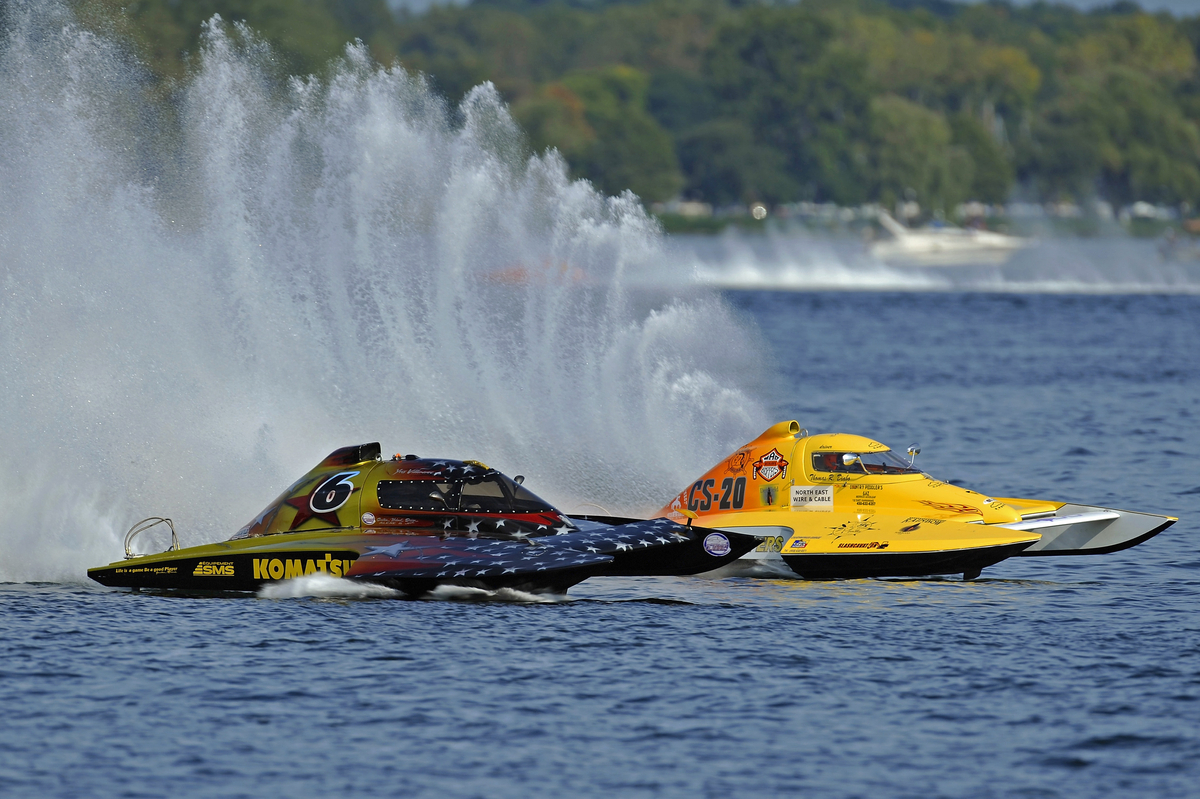 5 Litre
5 Litre hydroplanes ("E" boats) race to speeds of 115 mph, powered by mildly modified marine-based stock 305 Chevrolet and 302 Ford V-8 engines (285 horsepower). Engine modifications are limited, putting a premium on driver skill, with great competition at every event. These guys and gals duke it out, every time!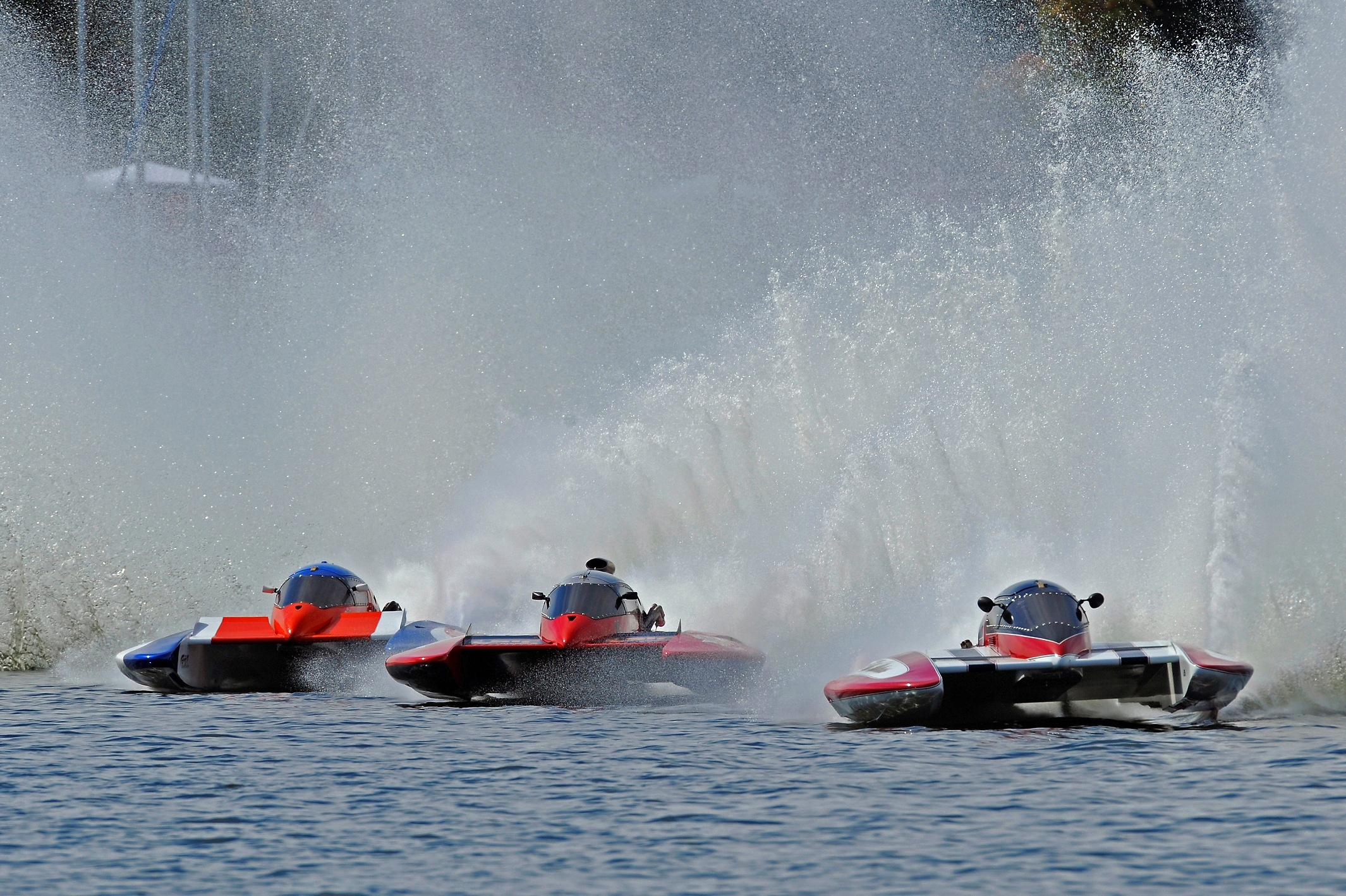 Crackerbox
Crackerbox ("P") is one of the oldest Inboard Runabout classes, distingushed by the 2-person team of driver and rider seated side by side at the rear of the hull. A powerful modified engine, mounted amidships, powers these sprinting flatbottom hulls in impressively competitive races.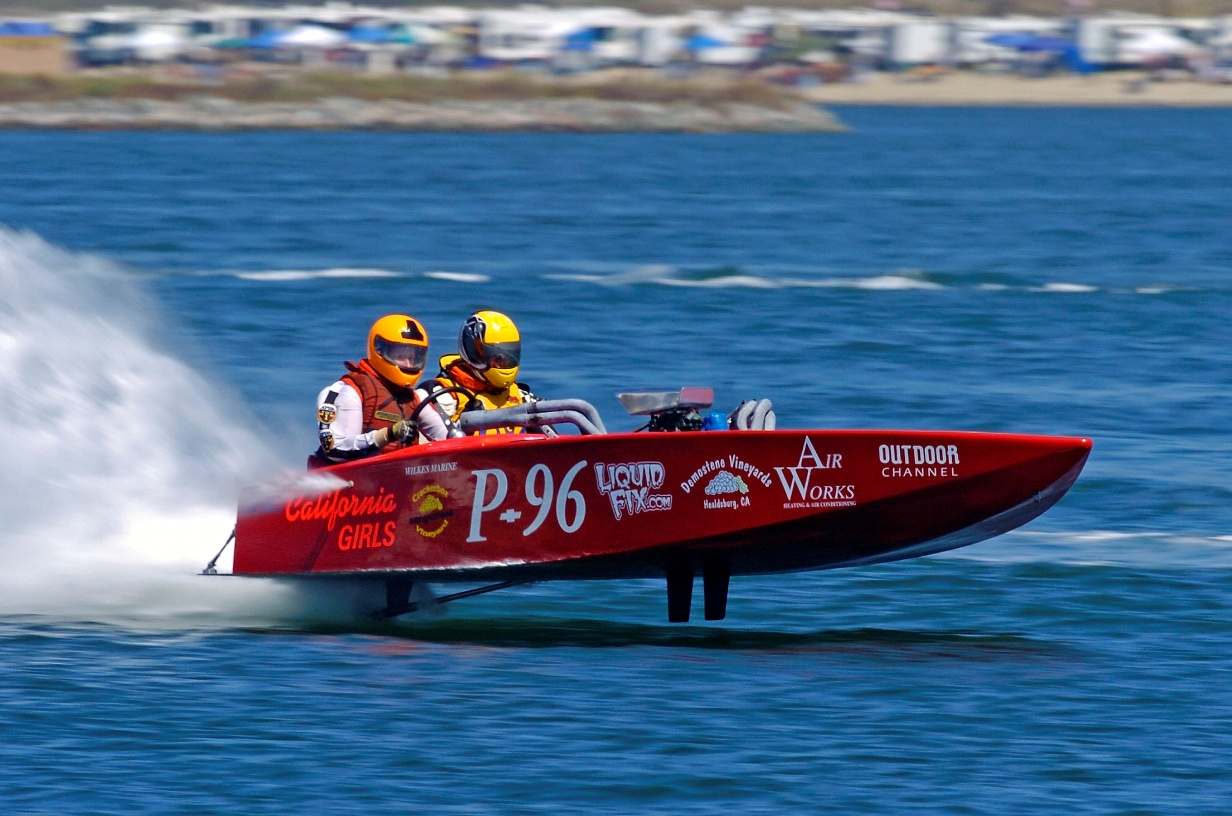 Grand National Hydroplane
Grand National Hydroplane, aka GNH or 7 Litre, is the largest non-supercharged Inboard hydroplane class. Powered usually by big block Chevrolet based engines (up to 511 cubic inches) with an hot rod racing engine(750+ horsepower), the highly competitive GNH's have 150 mph capability and throw 70-foot roostertails, thrilling drivers and fans alike.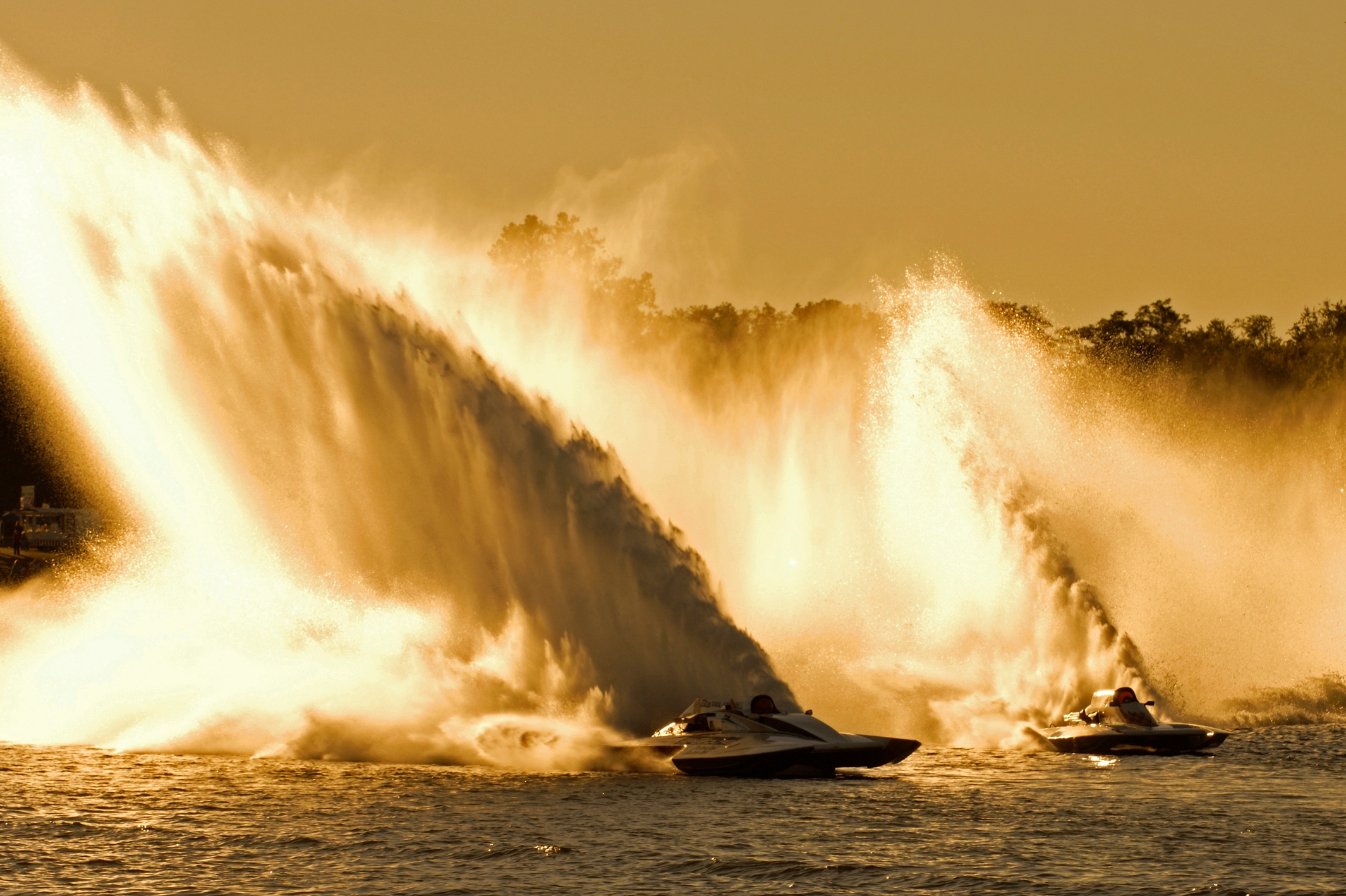 Grand Prix Hydroplanes
Grand Prix Hydroplane – supercharged competition! This professional level GP class provides all the noise and excitement you can handle. The 1500 horsepower blown V-8s, based on big block Chevrolet design, make the most noise and throw the biggest roostertails this side of anywhere! Limitations are few; beyond the 468-cubic inch engine displacement, it's Hot Rod City and up to the ingenuity of the builder. Grand Prix hydros are the biggest and baddest of the bad!
Jersey Speed Skiff
Jersey Speed Skiff is an exciting and dynamic class of Inboard Runabout. In competition, the boat must carry a crew of two (driver and riding mechanic) seated side by side, strapped inside a steel tubing roll cage. The 300-plus horsepower Skiffs are a wild ride; they spend a lot of time airborne, bouncing around, rolling sideways to seemingly impossible angles, at 80 MPH. The riding mechanic holds on tight, while the driver stays on course.
Previous National Champions:
2008 James Buturla JS-712 "Flying High" 2009 Bill Darby JS-13 "Darby's Rapture" 2010 Bob Presley JS-9 "Kentucky Blue" 2011 Trevor Kirsh JS-100 "Summer Storm" 2012 Leonard Outlaw JS-3 "Making Memories"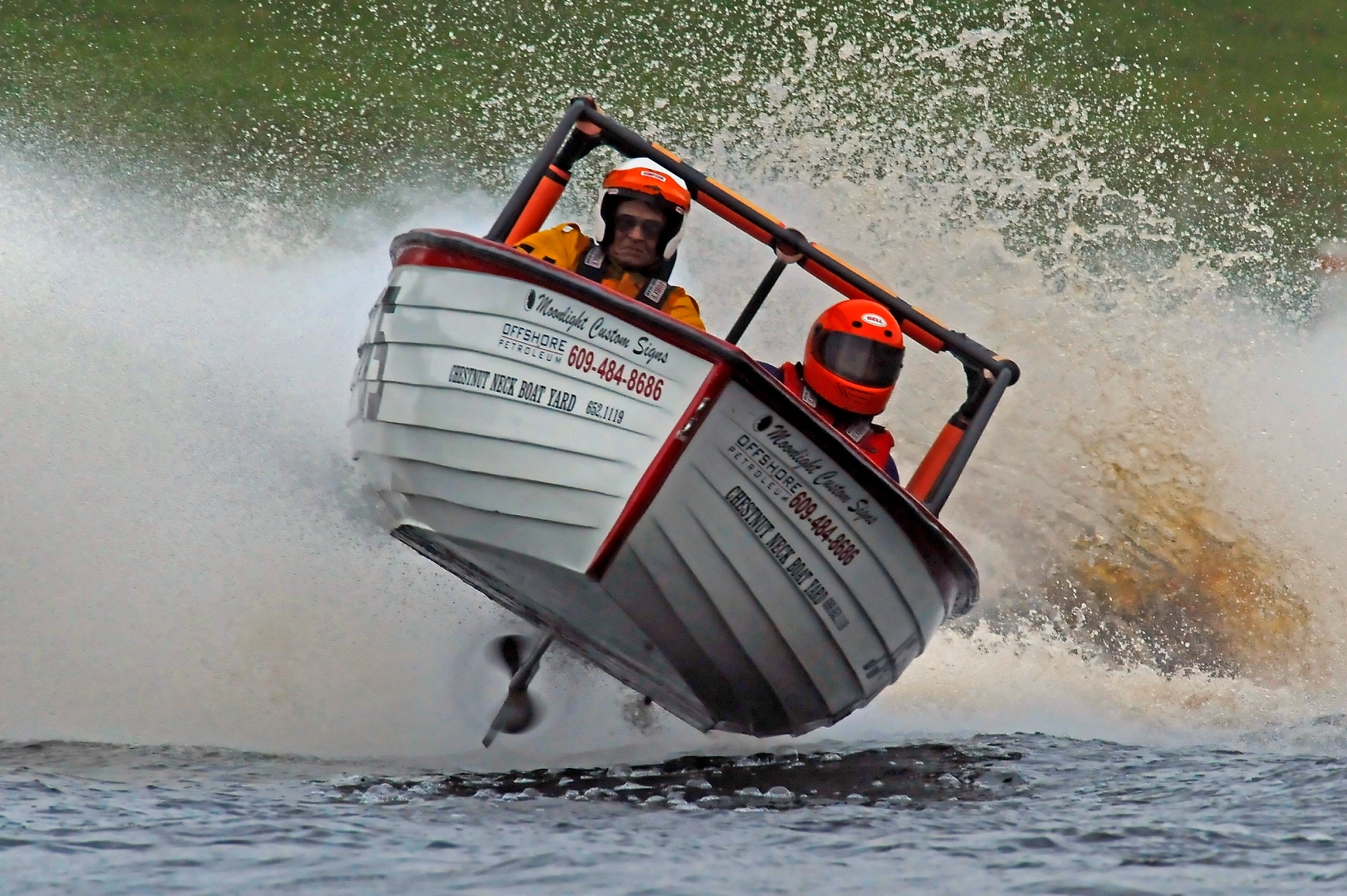 K Racing Runabout
K Racing Runabouts (K-Boats) are a professional class of propeller-driven Inboard Racing Runabouts, using virtually unlimited engines and fuel. Basically, anything goes. Drivers must be 21 years old and qualified, as these boats are extremely fast (competition speeds over 100 MPH, and a Kilo record of 147.265 MPH).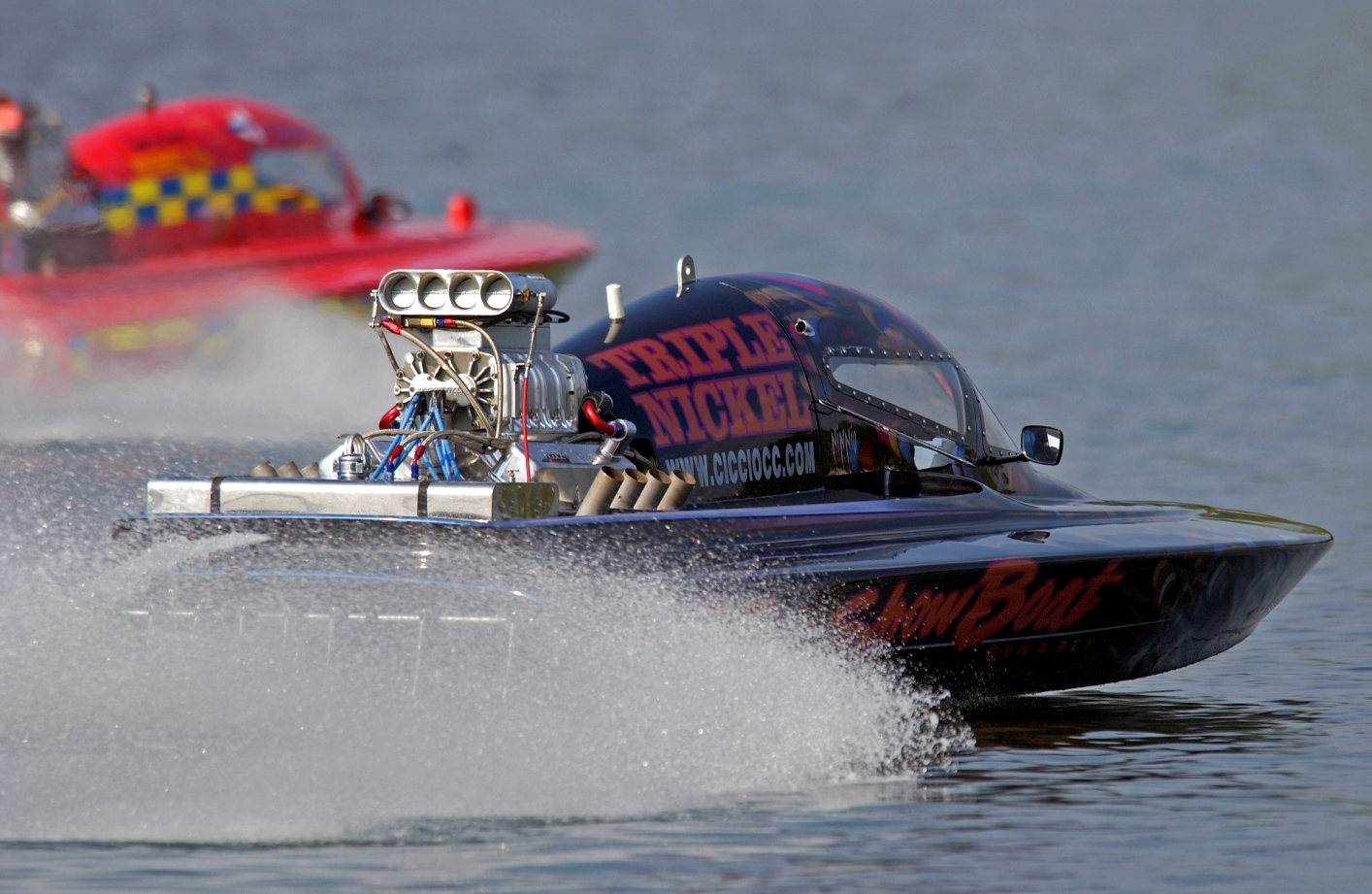 National Modified Hydroplane
The National Modified hydroplane (NM) offers speeds of 140 mph to the serious competitor, utilizing automotive and marine non-supercharged engines ranging from 4-cylinder and V-6 up to 368 cubic inch V-8 engines, carbureted and fuel injected.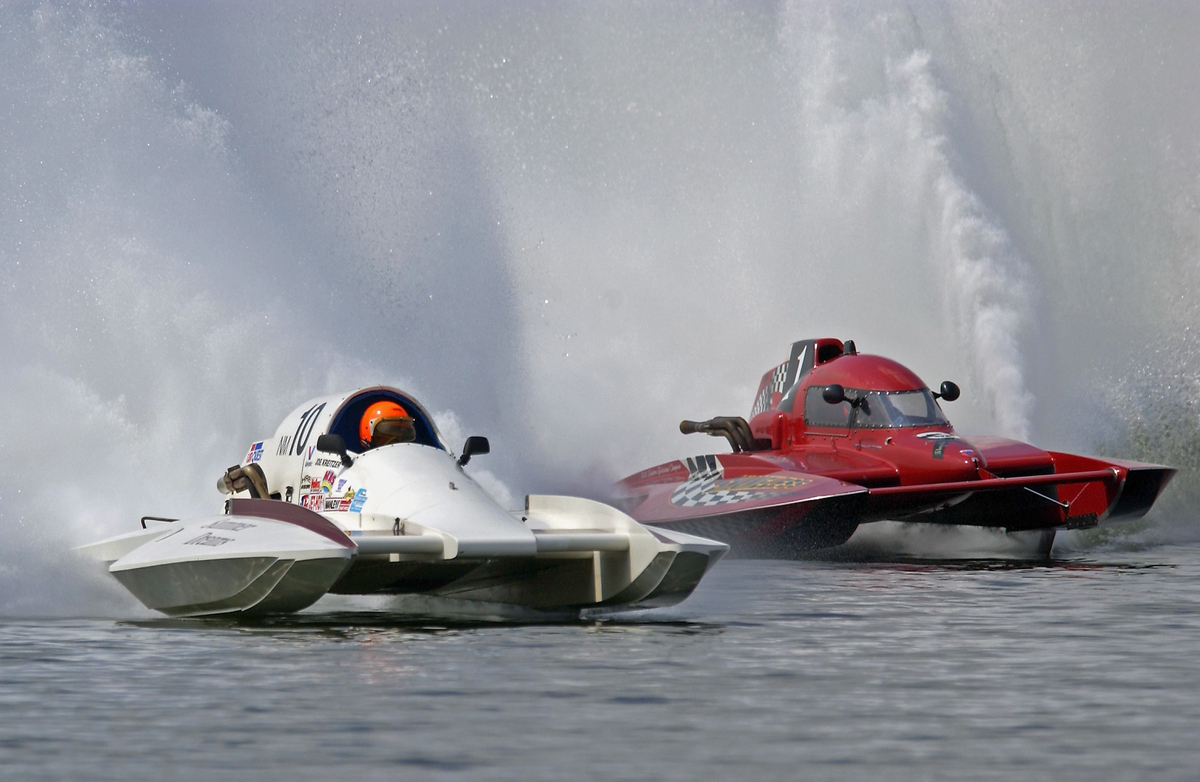 Pro Stock
Pro Stock Runabouts (PS) are a professional class of propeller-driven Inboard Racing Runabouts. The high speeds (120+ MPH) make Pro Stock an exciting class to drive or to watch.  These flatbottom boats use non-supercharged, 500 cubic inch engines, mounted rear of amidships and driving forward through a V-drive; carburetion or fuel injection may be used. The same hull may be run in Super Stock, so you may see boats with SS/PS next to the number.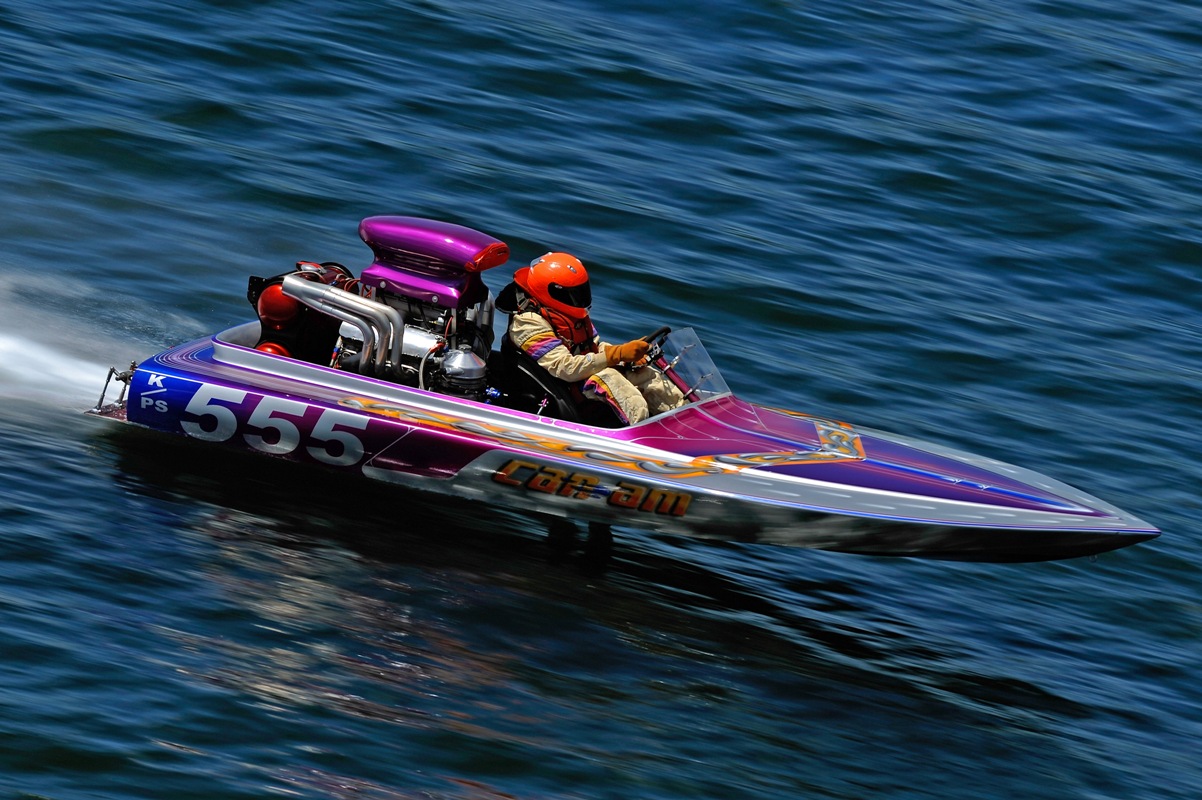 Sportsman Entry (SE)
Sportsman Advanced (SA)
Sportsman Entry is a fun, affordable entry level runabout class with a maximum speed of 85 mph using only GM cast iron small block and cast iron heads derived from passenger or truck model vehicles,  and abiding by inboard Runabout and safety rules. Class rules are online in the
Inboard Rule Book
.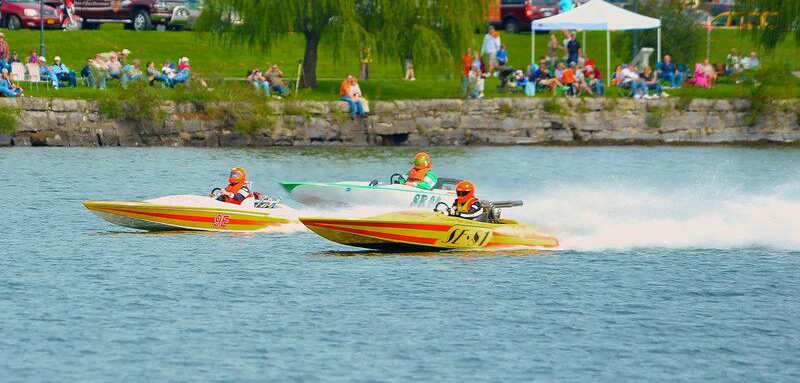 Super Stock
Super Stock (SS) is a powerful, fast (100+ MPH) Inboard runabout class. These exciting flatbottom hulled boats are powered by high-winding, 427 cubic inch big block Chevrolet engines, based on the venerable L88 design, which must be mounted rear of amidships and drive forward through a V-drive. Drivers often run both Super Stock and Pro Stock, so you may see boats with SS/PS next to the number.